"Training device for Pelvic floor muscles" as MD in Japan has been established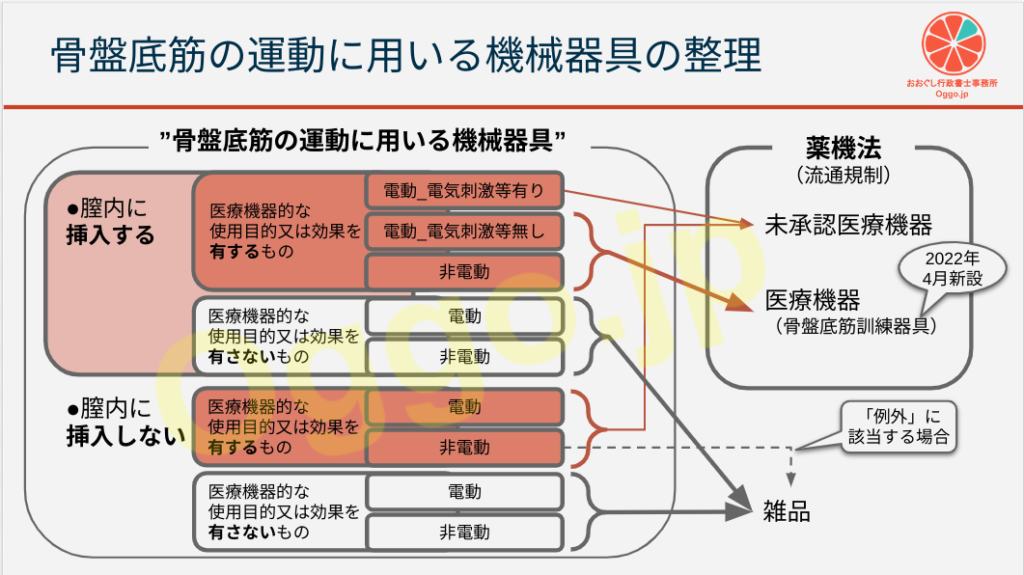 Have you ever heard the word, "Train the pelvic floor muscles"?
The muscles span the bottom of the pelvis, Many women, especially those who have had childbirth or abdominal surgery, suffer from stress urinary incontinence due to the muscles not working normally (References 1).
To remedy the problem, training of the pelvic floor muscles, such as Kegel exercises, has been proposed (References 2).
Kegel exercises usually do not require tools. However, if you look at the Internet, you can see that there are methods using tools such as tools that give electrical stimulation such as EMS from outside the body or insert it into the vagina to enhance the training effect.
Notifications that place "Training device for pelvic floor muscles" as MD
While femtech is spreading in Japan, various pelvic floor muscle training tools are coming to Japan from overseas.
However, two recent notifications issued by the Ministry of Health, Labor and Welfare (MHLW) may change the market for pelvic floor muscle training tools in Japan.
These are the URL of the notifications, but I'm sorry, they're only in Japanese.
These two notifications have organized training tools for pelvic floor muscles. I made a figure.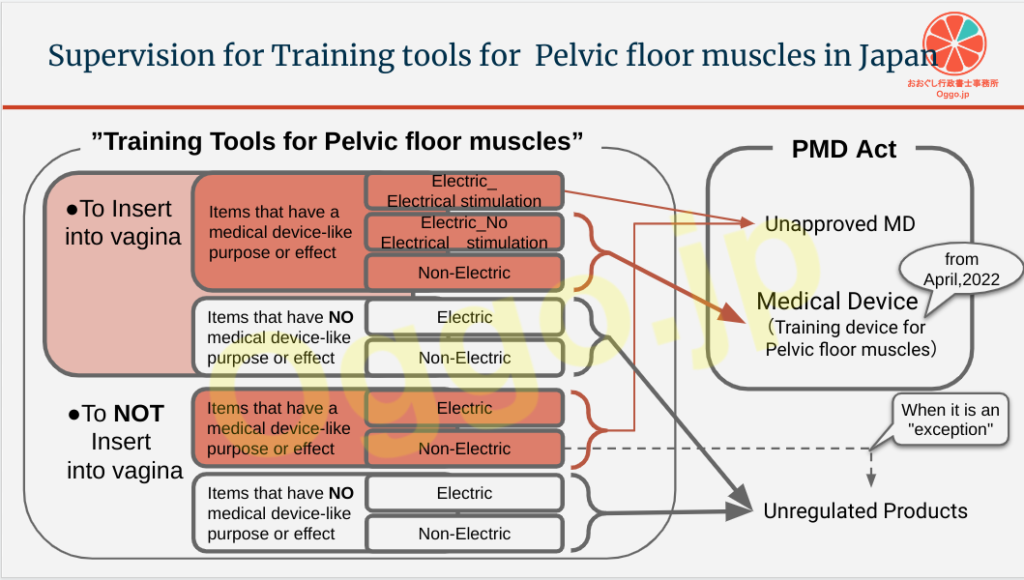 Below this, I will briefly touch on the content of the notifications.
Please understand that the details may change as the official English translation of the MHLW is not yet available at this time.
First Notification
The first notification indicates that the "pelvic floor muscle training device" as defined below has been added as class 1 medical device .
It is a device for training the pelvic floor muscles at home by inserting it into the vagina for the purpose of improving urine leakage. However, those that give energy such as low frequency and electrical stimulation are excluded. Some are equipped with pressure sensors and programs that display training content.

令和4年4月13日付、薬生発0413第1号、厚生労働省医薬・生活衛生局長通知
Second Notification
The second notice outlines the medical device applicability of the training tools for pelvic floor muscles.
This notice states that "medical device-like purpose or effect" is "diagnosing, treating or preventing a disease or affecting the structure or function of the body".
It also gives an example of "a product advertised with this words is considered a medical device".

Anything that has a medical device-like purpose or effect, such as advertising or labeling the following medical device-like purpose or effect, falls under the category of medical device. (Omitted)

[Example of advertisement / marking corresponding to the purpose or effect of medical device]
・ Repair of damaged pelvic floor muscles
・ Treatment, improvement and prevention of urinary incontinence (urinary incontinence)
・ Treatment, improvement and prevention of uterine ptosis and uterine prolapse
・ Massage effect (recovery from fatigue, improve blood circulation, relieve muscle fatigue, relieve muscle stiffness, etc.)
・ Analgesia / anti-inflammatory
・ Relief of menstrual pain
・ Improvement of PMS (premenstrual syndrome)
・ Relief of menopause
・ Improvement of constipation
・ Improvement of insomnia
・ Improvement of poor circulation
・ Moisturizing in the vagina
・ Improvement of vaginal discharge function

「骨盤底筋の運動に用いる機械器具の取扱いについて」(令和4年4月13日付、薬生監麻発0413第5号、厚生労働省医薬・生活衛生局  監視指導・麻薬対策課長通知)
Impact on businesses
In the example above, you can see that there are a lot of words that you would want to advertise if you sell training tools for pelvic floor muscle.
However, the training tools for pelvic floor muscles advertised above are considered medical devices, whether invasive / non-invasive or prescription / home use.
If it is a medical device, the seller must go through pre-sales procedures and distribute it as a medical device.
Products that neglect to do so are unapproved medical devices, and the act of distributing them in Japan violates the PMD-Act and may result in arrest.

In recent years, in Japan, major EC malls such as Amazon.co.jp and Rakuten.co.jp have strictly demanded legal compliance with their products.
Also, although it is not a medical device, Amazon clearly states in Examples of Prohibited Listings "Cannabidiol (CBD) products that THC contamination has been discovered in the past (including products of the same brand and series)" for CBD products (References 3).
From these facts, it is expected that even a single administrative sanction will have a significant impact on the business.
Please understand the law and steer when selling healthcare products in Japan.
Oggo.jp
Oggo.jp supports people who are thinking of doing business in the field of femtech in Japan.
Our office provides consulting not only for medical device license-related procedures, but also for sellers' worries such as "I can't decide which way is better, whether to medical device or to unregulated products!" Or "I don't know the rules to sell in Japan."
The first consultation is free.
Please feel free to contact Oggo.jp whether you are in the planning stage or have a product already in hand.
References
"尿が漏れる・尿失禁がある". 日本泌尿器科学会. 更新日付不明. https://www.urol.or.jp/public/symptom/04.html. (accessed 2022.06.13)
"骨盤底筋訓練". 東京女子医科大学附属足立医療センター 骨盤底機能再建診療部. 更新日付不明. https://twmu-amc.jp/mce/prsurgery/contents/training.html. (accessed 2022.06.13)
"Tobacco & Tobacco-Related Products". 更新日付不明. https://sellercentral.amazon.co.jp/gp/help/external/200164910?language=en_JP .(accessed 2022.06.14)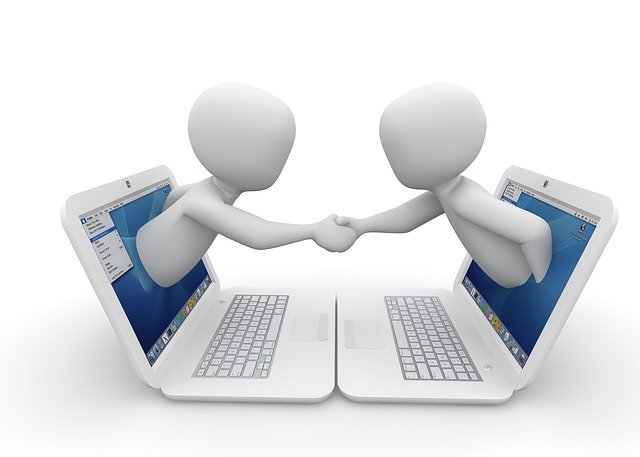 お気軽にご相談ください。
・初回相談は無料です。
・行政書士には秘密保持の義務が課せられております。
・フォームに入力されたメールアドレス以外に、当事務所から連絡差し上げることはいたしません。